millenniumartglass.com
Millennium Art Glass Company
(A division of fruitcratelabels.com)
---
6) SHOP STORAGE:
On one of the stained glass forums, someone was asking about how to store glass in a small workshop. Anyone who visits any stained glass shop can see how basic bins are made, but most glass shops deal in BIGGER pieces of glass and the scrap they usually put into plastic bags and sell it by the pound just to get rid of it, because they generate so much of it in their store and classes. My shop is only about 10' x 12' in size with 150 feet of extension cords from the house as a power supply. The water supply is a hose stretched across the yard. I decided to build a shop out by our garden area so there would not be any shards of glass around the house, that could get into the carpets and our feet and clothes. I have a couple tables and two big home-made light tables, some glass racks, shelving and window sills where I set my tools. It's pretty small in there, so space is a premium. You can see some of the shop in the last 5 pages of this site. But to answer the questions of the forum members, here is how I solved my storage problems with glass in a small shop.
First of all, when large pieces come in, I have "half-sheet" racks which are 32" tall, 12" wide and 24" deep. Each box holds about 33 half-sheets. So, three of them will hold over 100 half sheets which is a LOT of glass! These are located under my main work table which is 34" off the ground.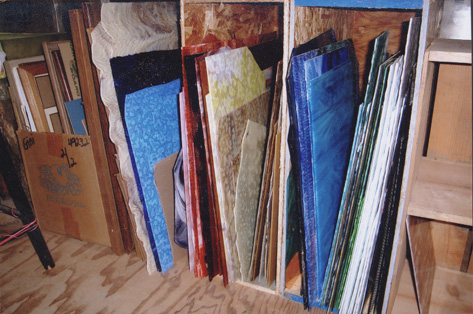 Next, is the Partial Sheets, which range from 1/4 sheets to about 12x12 pieces and maybe a little bit smaller. In these racks, you don't want lots of small pieces because the bottom gets cluttered and then the taller pieces can get broken standing in mid air. I try to keep all the pieces 12x12 or larger. Also, I store ALL my glass, no matter what size, by the colors of the spectrum. Reading from left to right they are as follows:
RED, PINK, REDDISH ORANGE, ORANGE PINK, ORANGE
SKIN TONES
CHAMPAGNE, AMBER, SALMON, RUST
BROWN, BUTTERSCOTCH / CARAMEL
YELLOWISH ORANGE, YELLOW, GREENISH YELLOW, YELLOW GREEN
(LIGHT GREENS), GREEN EMERALD, BLUISH GREEN, BLUE-GREEN
GREENISH BLUE, GREEN ­ WATER styles,
AQUA, BLUE , POWDER BLUE, LIGHT BLUE, DARK BLUE -WATER(S)
CRANBERRY, PURPLISH BLUE, BLUISH PURPLE, PURPLE, INDIGO / VIOLET
REDDISH PURPLE, PURPLISH PINK, RED PURPLE, PURPLISH RED, LAVENDER
WHITE, GRAY , BLACK
MIRROR, DRAPERY
This sounds confusing, but when you have it worked out, you can glide along the fronts of the racks, shelves and bottles and easily spot the color and textured piece you are looking for. These bins are 24' tall x 8" wide x 16" deep, and together these 12 bins take up 48"x48", are plenty strong (I screwed the backs to the studs of the walls), and can hold about 40-45 pieces each or 350 pieces of glass comfortably.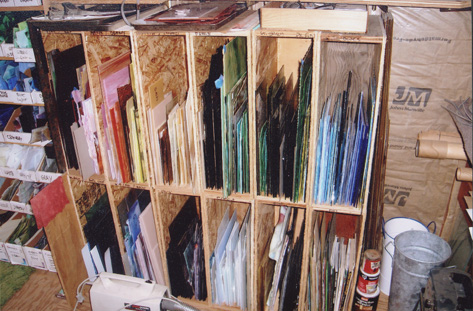 For all the smaller pieces of glass or "medium scraps" I handle, I have a book shelf that I made for this purpose. It is 36" wide, 72" tall and 12 " deep, and has 8 shelves 7" INSIDE space between each, with the bottom-most being what was leftover when i was done. There are 80 folding cardboard bins (available through U-Line.com) 64 of which hold colors in the archive, the ones on the bottom are my wife's mosaic glass, and on top are tools, rolls of solder, grinder and saw parts, soldering irons and so on.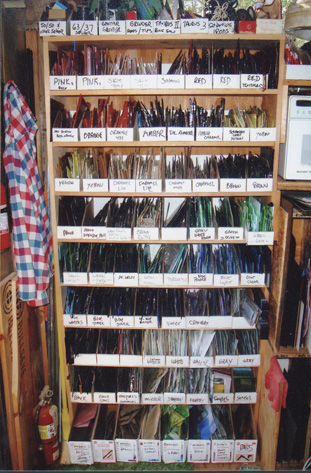 Next are the smallest pieces that I use for tiny elements in windows and in lampshades. I have a thick plywood shelf, which is 12" deep, 48" long and can hold 40 of these plastic jars. The jars I get at the local store when they are emptied of beef jerkey, they have given them to me for years, and I have about 100 of them for all kinds of things. They are strong plastic, 7" tall and 5" in diameter with a screw-on metal lid. This means the shelf is VERY HEAVY! 80-100 pounds on the shelf all the time. Same idea here, all the colors of the spectrum, but simpler: reds together, yellows, blues, a simpler index. One bottle for dichroic pieces, mirror, jewels, and so on. Then other shelves around the room, even at ceiling height, hold all the other stuff a shop needs including pattern books and books on stained glass art of all kinds.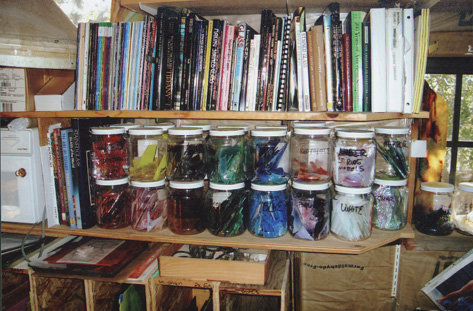 Finally, the surface I use for my grinder(s) and saw(s) is also a glass rack. But the glass in it, is all clear... clear textured, float, all kinds and styles, but all clear! I don't like to use a lot of clear glass so I don't have a lot. But when I am digging in the scrap bins of all the stores and studios I can, I find pieces of all shapes, sizes and designs. In this rack I have 32 boxes or bins of clear glass styles. It is 36" high x 48" long and 16" deep The last 12" has no shelves so I can stand larger pieces in it.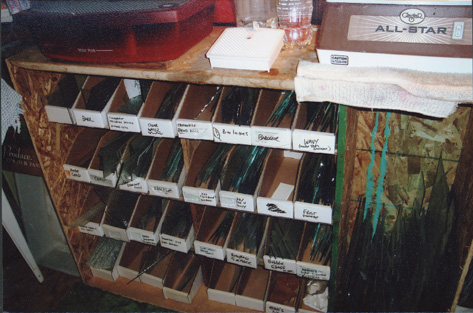 So, that's it. I have a couple light boxes on the tables one is 26x37 with 6 bulbs in it (3 fixtures) and the other is 25 x 66 with long fixtures in it. They both have thick plexiglass tops, supported inside with 1" upright dowls to support the plex and what ever I put upon it
.
One other thing I find helpful is desk lamps, all I can find, usually at garage sales for about $2.00. You know the ones, with two hinges and springs that you can move around over the tables and adjust. I have about 8 of them in this shop, so I can light the work from above or below (with the light tables). The dressers have drawers full of tools and rolls of Vellum, patterns, other art supplies and my wife's art supplies. The windows all have interesting glass standing in them, the tools are on the window sills and in cups and jars and such. I have a sink, no phone!, and a radio. I can get lost in here for days :)
Next page for new 2008 projects!
Thomas P. "Pat" Jacobsen --
P.O. Box 791, Weimar, CA, 95736-0791, U.S.A.
Phone 530.637.5923. (8:00 AM - 5:00 PM, weekdays (PST)
EMAIL: pjacobsen@millenniumartglass.com
(Last update:1.24.08)