millenniumartglass.com
Millennium Art Glass Company
(A division of fruitcratelabels.com)
---
PAGE 1) A BRIEF HISTORY:
After thirty years spent in label collecting, and historical work, and the thirty-eight years I have been a jazz musician... I decided in October 2000, to get into stained glass work. My wife had built a window years before which hangs in our home to this day. But, her glass and tools lay dormant for over twenty years in a box in the shed. In 1994 we toured parts of Europe with backpacks and rail-passes and went to myriad big cathedrals and duomos, and all the major museums in France, England, Italy, Spain, parts of Germany and several other countries. The stained glass was amazing, even considering how much was lost in World War II. But, as much as I could appreciate it, I had no idea what it took to create such things. So, I didn't think anything about it again until late in 2000, when for no real reason I can recall, I thought I would try making a little window or two just for fun. I started slowly, by dusting off my wife's old materials and buying a few used books on the subject and collecting some scrap glass to play around with, and setting up a work bench. I found a photo on the Internet of a girl leaning against a tree and thought "I'll try to do this in glass." So I drove to Rainbow Glass in Sacramento, bought a couple big pieces of glass, a grinder and a Taurus II ring saw and went home and started making a mess. In short order I had broken several pieces, gotten glass fragments all over the floor of my garage, and realized I knew nothing about glass. So, I decided if I was going to try and do glass properly, I had to get the glass and shards and other hazards out of the house and carpets. So I decided to build a little garden shop with electricity and some lights and a work bench, so I had room to make a mess away from the house. This would take a year to do before I finally had a place to work, so I stopped temporarily and started gathering building supplies to make a shop. If it didn't work out, we could just store tools and garden stuff in there.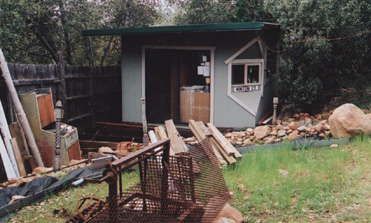 I was suprised how immediately I became fascinated with glass and all the types available, and within a couple years, I had glass scraps from all the shops, studios and artists I could find along the Pacific Coast (from the S.F area to Seattle!) piled up in boxes, waiting for a place to put them. I found myself studying glass on the Internet, hanging out at glass shops, and finally began building some windows as soon as the shop was water-tight (shown below.) The shop was finished in 2004. And ,although it was only 10x12, I crammed everything I could into it! Then in early 2005, I decided to start a modest hobby/business in it, called Millennium Art Glass. This name was new and nowhere on the Internet, so I boldly advertised it as my new company name, even though I didn't know a darned thing about the glass business, I knew I was burnt-out on the label business. My plan was to be very busy with outrageous, highly detailed designs and maybe hope for some commission work in the years to come (of course I had no reason to believe I could actually DO that, but it sounded fun). And, so I began cutting and plinking and making a mess.
My real addiction to stained glass began in earnest in February 2005, when my wife and I took a one night per week class in Colfax from Thaddeus Little at Legacy Glass, a small glass and pottery shop near our home. The class lasted for five wednesdays. My first project was a small window I saw in a pattern book he had in the shop. He said, "let's just start with a little 20 piece project, and see where it leads." I started with a 40 piece project (troublemaker that I am.) Then he put a big box of scrap on the table and said "go ahead and find some glass you like." So, I pulled out some ring-mottles, and Kokomo water-ripple and a lot of textured pieces, to which he replied "you might want to start with something less unusual for your first piece." But, I said, "no...., I think I can do this." And, being a patient teacher and fine glass artist himself, he said, "okay let's see how far you get." Over the next few weeks we worked one evening a week at his shop, and then I took the pieces home to do more work at home. On the fifth evening, we soldered everything together and our windows were complete. There are 41 pieces in my first attempt and all the glass was from his scrap box. This pattern is called "The Pool" by Gary Kazanjian, but I call this modified artwork "The Whim," because I changed several major elements of the original design. "The Whim" 15x15, 41 pieces February 2005. We were all very happy with it, and I loved it, because I had never made anything like it before. At that moment the glass bug bit me!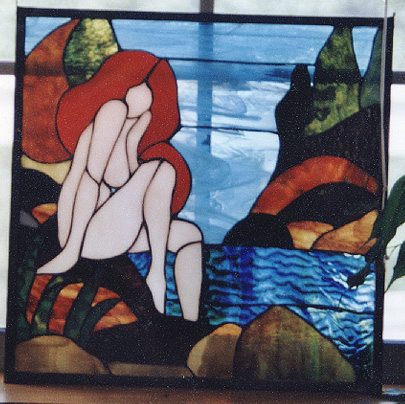 This only took about 22 hours from start to finish, and we were all happy with the result. So the next window I completed, was one I had TRIED for two years to find time to work on, although I did not have any skills, just a ring saw a grinder and a desire, and no place to work, as I said. This second window (or first sort-of...) was from a photograph I saw on the Internet. I named it the "Jennifer window," I am not sure why. ("Jennifer" 21x24, 64 pieces, started 12/00 completed 3/05, Copyright March 2005 Pat Jacobsen) (ALL FURTHER IMAGES AND DESIGNS ON THIS WEBSITE COPYRIGHT 2005 -2008 By THOMAS P. JACOBSEN unless otherwise noted.)
In all of these "figural" window, I will still have to do some painting on the glass to add the feminine features, which is a skill I have yet to master. (Her hips look funny now, but when the painting is complete, it will look normal. But unless I take the pieces out to paint them and fire them, it will have to be cold-painted.)
I next attempted a redhaired mermaid at the ocean bottom, using all Uroburos and Kokomo heavily hand rolled water glasses and ring-mottled glasses for the sea floor, fluid seaweeds, her hair and a fiberous style glass, framed like an 1880s' saloon poster. The reason I took this on, was because all I had done was complete the Jennifer project which didn't really have much going for it, and the "Whim" which was a class project. This window I call "Deepwater" was a challange to myself to see if I could do something other people said I "couldn't." This is my own design, but based upon an old Florida Fruit label, and uses textured glasses, ring-mottles, heavy-rolled water glass, seedy glass, combed seawater glass, hand-rolled pieces and irridized. I figured, "if I can't do this, then I can't be a very good stained glass artist." So, this was a big challange for me: ("Deepwater" 23x29, 165 pieces, Copyright April 2005 Pat Jacobsen) I also made three fused 3-d fish at a local glass shop, and planned to add a couple seashells for a "raised" effect.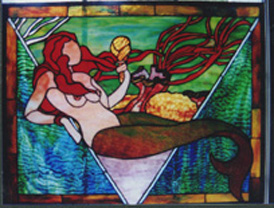 When Deepwater was done, I couldn't believe it. Since these few windows were so much fun to create and got such positive responses from family and friends, I designed and completed several smaller, less complex pieces. The first one was a cooperative design with my wife, for my best-friend's 50th birthday. He is a diver and a big fan of dolphins, thus, his window. ("Dolfin '50" 10x14", 35 pieces Copyright May 2005 Pat Jacobsen)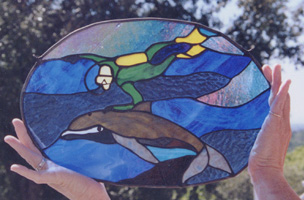 I also did a round window for my musician friend Saul Rayo, which was a stained glass version of his music logo of two people dancing. (10" round, 22 pieces, May 2005 )( Copyright 2005 Saul Rayo, www.rayoplanet.com).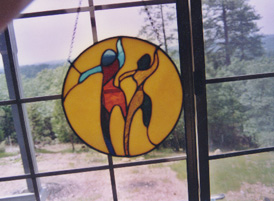 For Christmas I did a rose for my sister Cynthia Rose (Cynthia Rose, 11x14, 44 pieces, Copyright October 2005 Pat Jacobsen).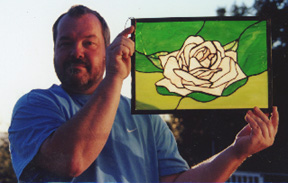 And, this angel was for my mom, ("Jackie's Angel" 15x16, 32 pieces, Copyright December 2005 Pat Jacobsen)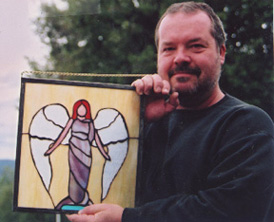 The last piece I did in 2005 was an Airedale for my friend Sue in Oregon. She is a dear friend of many years and loves Airedale terriers and is one of my long-time label collecting buddies. We went to see her for the holidays and this was her present. (Terrier Naumes" 15x19, 28 pieces, Copyright December 2005 Pat Jacobsen). In December '05, we drove throughout the Northwest, and visited Uroboros, Bullseye, Spectrum, Jax, Neoglassic and many large retail and wholesale outlets, buying scrap, and books and gathering ideas and meeting other artisans. I am fully biten by the glass bug, and even built an easle to carry sheet glass in the back of my Yukon. We brought home twenty sheets and 6 boxes of scrap from all over the coast!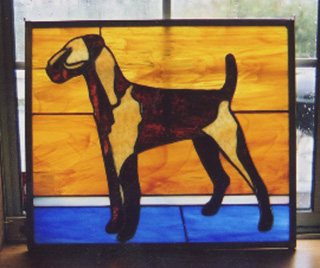 STAINED GLASS IN 2006

Then, starting off 2006, I did another panel for my best friend, who brought me a girl's picture and wanted to know if I could create it in glass. Unfortunately, I had to use lead lines to imply the curves and a laundry-marker pen for the facial features. This really forced me to decide to pursue training in painting on glass, because without the painting and kiln skills, I will forever be dependant on big lead lines to imply features, and for beautiful, subtle figural work, that simply won't do. ("Sandy's Siren" 20x20, 44 pieces, Copyright February 2006 Pat Jacobsen)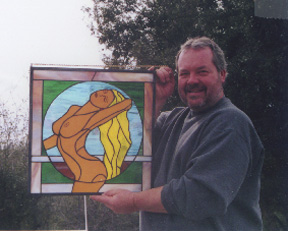 The next window I made was of the Travel Channel's Samantha Brown on a windsurf board. (the streak on her leg is an accidental reflection in the photo only, and I plan to paint in her face later). "Samantha Brown Travels" 21x12, 41 pieces, layered (plated) glass, Copyright March 2006 Pat Jacobsen) I liked the way it turned out, and decided not to send it to her, but keep it myself (it wasn't a commission anyway, so what the heck).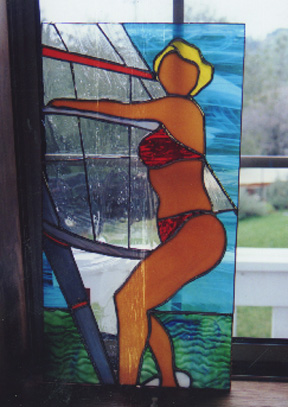 Again, this panel really suffered from not having the figural elements painted in before assembly, although I did "chase the grain" in the glass and implied the muscular curves of the legs and tummy with the lines in the glass itself. Nonetheless, I wasn't the same as if I had painted the glass first. So, I decided to take an airbrush class at a local glass shop in April. We worked for two days with airbrushes on paper and art-board and then I was given a sandblasted mirror that had a relief of a flower and stem, which I was to paint backwards, meaning the highlights first, and the shadowing last, because we were working from the back of the glass. This is how it turned out. The reason for chosing the airbrush as a place to start, was because the shop owner had told me that it was the best way to achieve shading on figural work, and that there was an artist in Oregon who could teach me how to do that.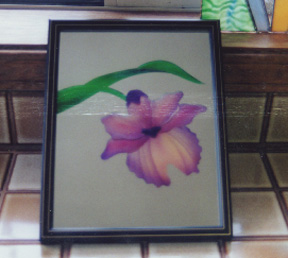 Naturally, my next step was to research air-brushes, compressors, paints, airbrush artists and websites, and so forth, and then to buy myself the appropriate tools. Since then, I have been studying air-brush books I have collected over the years, and the videos of Peter McGrain, and began learning about Rafael Schnepf's work from people who knew him. In the meantime, I also was given a number of Odyssey System large Tiffany lamp molds by an old friend whose home is filled with lampshades he made himself, and am not only hoping to do these Tiffany shades, but hope to be designing new ones, based on these fiberglass molds. (It's all very exciting. But lampshades will have to wait until I get more large glass projects and painting projects done first.)
The next design I created and completed, I call "Delight". The glass in her hair is from England and is hand-rolled art glass from the 1960s, and was all in a scrap bin at a glass shop in Northern Washington that I visited a couple months before. ("Delight" 21x36, 108 pieces, Copyright July 2006 Pat Jacobsen) ( I made this one for my own 50th birthday) The design is mine, so please do not use it without permission.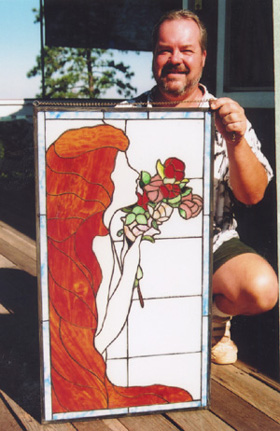 Then, in August 2006, I started a project with Patti Johnson of "P.J.'s Raising Came" glass shop in Auburn, CA. It is a belly dancer photo we found online as a basic concept, with a LOT of big changes in design. It is the 13th project I have done, but my first window using lead came instead of copper foil, (although it did use some foil construction techniques.) Her costume is clear, embossed glass layered over the main layer, and dichroic pieces used as jewels. ("Sheharazade" 22x25, 105 pieces, Copyright August 2006 Pat Jacobsen)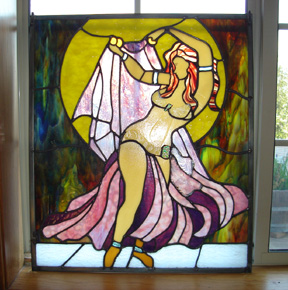 After this project, with the holidays approaching,, I wanted to make windows for my other two sisters. So, for one I made a snoboy and for the other a nativity scene as Christmas gifts. Both of these were from various pattern books with only minor modifications and are not really my designs. ("Deborah's Snoboy," 15x17, 42 pieces and "Gretchen's madonna" 14x20, 51 pieces, using drapery glass for the first time.)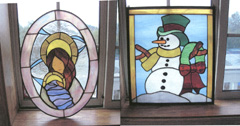 At the end of 2006, my second year making stained glass panels, I feel the strongest part of my business will be the designs themselves. I learned some time ago, that many people who get interested in stained glass will do a modest class project, like a duck or a sailboat or a mountain scene or "The Whim." My interest is in original designs, based upon my 30 years in the fruit crate label art business. As Thaddeus told me "the secret to success in stained glass is coming up with your own designs, not just doing the same things over and over that you see in pattern books. The 'artist' part of being a stained glass artist, is creating the designs and choosing the glass in your own unique way and making something meaningful to you." I agree with that idea. So, my hope is to pursue my own designs and keep collecting and archiving glass from everywhere I can, so I have lots of artistic choices. Thus, I have been, for several years, (even before I made any of these panels) been collecting out of print books about stained glass, and buying tools and glass at garage sales, and contacting every Northern California stained glass artist and retailer, in search of scrap glass for my library. That archive of glass has grown to about a half a ton, and covers 80 distinct colors of glass, and hundreds of styles and textures, about 6,000 pieces of glass of varying sizes. I plan to do windows, lampshades and 3-d projects in the future.
The next project was a pair of identical windows which I would utilize painting on glass. This is a new chapter in my career so follow this link to the next page :) Thanks!! <art-glass2.html> This second page explains the project itself, and the serious problem I had with commercial patina and enamel painting on glass!! Everyone who paints on glass should read it!
NEXT PAGE FOR NEW 2007 PROJECTS!
Thomas P. "Pat" Jacobsen --
P.O. Box 791, Weimar, CA, 95736-0791, U.S.A.
Phone/Fax: 530.637.5923. 8:00 AM - 5:00 PM, weekdays (PST)!!
EMAIL: pjacobsen@millenniumartglass.com
(Last update: 10/07)