millenniumartglass.com
Millennium Art Glass Company
(A division of fruitcratelabels.com)

---

The Raphael Schnepf Airbrush Workshop
A personal recommendation...

PAGE 3) As I mentioned on the last page, I needed to learn how to paint on glass, and how to use an airbrush, two things I had never done. "One major problem for me was that I had never painted on glass before, so at the recommendation of Phil Teefy at Rainbow Glass in Sacramento, I sought the tutilage of a master glass painter. Phil kindly contacted the famous 20 year veteran airbrush artist and glass painter from Savoy studios in Portland, Raphael Schnepf to see if I could go take some private study in glass painting. So, after arranging to study with "Rafy" in February 2007, I drove to Portland to meet with him ( www.rschnepf.com ). The first couple days I attended a weekend workshop where several people took the same class. On Saturday and Sunday, we all airbrushed on glass and fired a couple small starter projects. Then I stayed on for a several more days to study privately." I had such a fabulous time studying with "Rafy", that I am creating this page to show you what the workshop was like and to recommend that ANYONE interested in airbrush and/or painting on glass, should absolutely take his class!! Even if you are an accomplished airbrush artist, you will learn a LOT from Raf.

Shortly after Phil called him, Raphael emailed me about his upcoming workshop and had me revisit his website more thoroughly, as well as that of Savoy Studios in Portland, a world-class glass studio. Similarly, I sent him to my website to see the first two years of panels I had built, and the plans for my "twin mermaid windows" project for which I needed to learn how to paint. In turn he sent me some images of his figural work for and with Savoy Studios. His talent and techniques with shading and illustrating the human form onto glass, was exactly what I wanted to pursue. So, I signed up for the class and started planning my trip north. I also bought and watched several times his video tape about airbrush. (I also borrowed Peter McGrain's DVD's from a local glass shop and absorbed them, too.)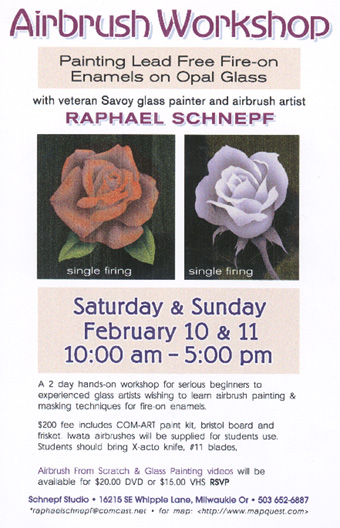 (This flyer is for the workshop I attended. Check his site for new dates of new workshops: http://www.rschnepf.com )
On the way to Portland I stopped along the way at several glass shops in Medford, Grants Pass, Roseburg and several more in Portland, including Cline Glass, Bullseye and Uroburos. I also drove one day a special trip to Jax Stained Glass in Bellevue Washington (with lots of great exotic glasses and a great staff.) So, with my truck full of fresh glass I found a motel outside Portland in Milwaukie, Oregon, where the workshop was being held.
The class was held in Raphael's beautiful home studio, where I arrived and met "Raf" and the love of his life Margaret Joyce, not only a remarkable artist in her own right, but she is also a Reiki master, a devoted student of Cherokee healing methods, the uses of crystals, and the use of "perfect pitch crystal singing bowls." They couldn't BE nicer people!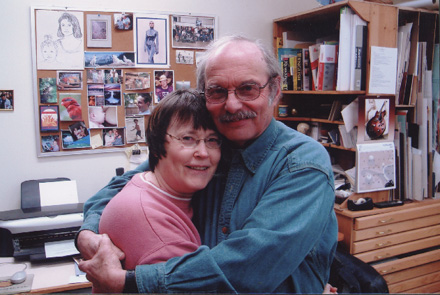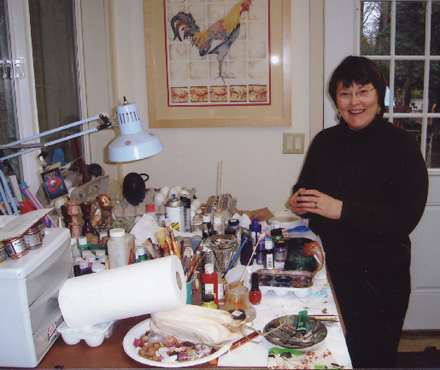 The studio is spacious, well lighted, very inviting and filled with Raphael and Margaret's works. You can tell Raphael has been at his craft for a lifetime. Not only were all his tools and materials organized, but so were several painting stations set up around a large common table, where about 10 airbrushes were set up with easels, many colors of airbrush paints for each person and everything else one would need. He also handed out a comprehensive booklet about airbrushing for each student to keep. We focused first on watching Raphael's demonstration as we all collected around his easel. We learned what airbrushes are, their history, their uses, their variety, and learned about frisket sheeting and how it works. We all painted patterns and images with Iwata Com-Art Colours regular airbrush paints on Bristol Board, to get the "feel" of the airbrushes and all the colors. The first project was a painting of a lake with a mountain behind it and foothills on the sides, painted in several colors and shadings. Raphael fielded questions and helped everyone personally which everyone was quite happy with, as we also painted cubes and other basic shapes. We also learned about kilns and "firings" and other aspects of glass painting with airbrushed media (paint). Then, everyone took a lunch break and returned to the studio an hour later.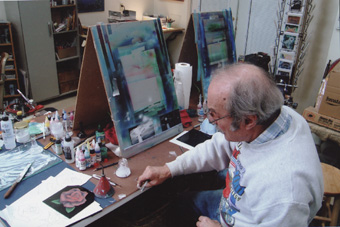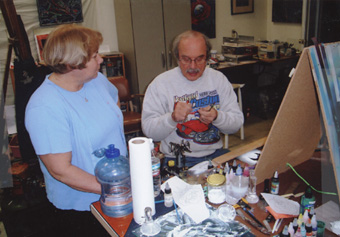 Finally we all learned the most important lesson, how to take care of an airbrush and how to clean it properly. Everybody cleaned their own two airbrushes and whatever others had been used. It was a full day of learning, training and fun.
The next morning, on Sunday we began painting on glass with airbrush and lead-free enamels. We laid out our own moon-lit lake scene with clouds and mountains and a long reflection of the moon on the lake's surface, on tracing paper, transfered it to frisket paper, then applied it to the glass. Then we ground our glass paint and used the airbrushes to apply the paints to the black glass. When every one had completed their first piece, and were feeling more confident, we all moved to our second project, painting a large rose in full bloom on glass. As each piece was completed they were placed in the kiln for one collective firing. The roses were either red or white, and the stems were green. Everyone's projects came out very nicely, proving Raf's effectiveness as a teacher. As class and the workshop weekend was ending, all the pieces went into the kiln, and cooled by the following morning when everyone picked theirs up.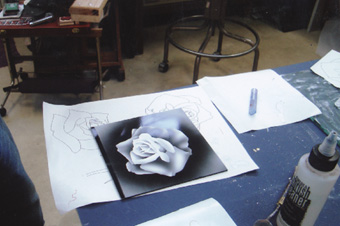 All the students were very happy with the results. I was elated, and felt when the class was over that I had certainly received my money's worth from the whole experience and had several pieces of airbrush art both on art-board and fired onto glass, under my belt, and a lot of information and left-over paints to take home with me. I also had pictures and lots of pages of notes and pointers and suggestions. I would absolutely recommend this workshop to anyone, novice or otherwise, if you want to be a better airbrush artist, or wish to paint on glass. Raphael is a wealth of information, skills and experience and is a very kind and generous person (as is Margaret!)
For a schedule of classes, visit his website, email him, call him, drop him a card in the mail. You'll be glad you did. He also teaches privately and takes commissions for myriad types of artwork and glass work, including logo design, album and CD cover art, event posters, and everything else. And, no they did not put me up to this, I am THRILLED to make this recommendation!! -- Pat
Raphael Schnepf Illustration & Design
16215 SE Whipple Lane
Milwaukie, OR 97267
503.652.6887
http://www.rschnepf.com
raphaelschnepf@comcast.net

---
ABOUT MY PRIVATE TRAINING...
In the case of my training, I had arranged in advance to stay in town a few more days and train with Raf privately, more along the lines of learning figural work. He said, "to properly paint the human form, you need to paint roses. They are the perfect way to learn all the subtle shading. " So, we began by drawing roses on frisket paper and applying them to art-board. Working side by side, he painted his, and I followed along. A couple hours later we were done. I have to say again, that I had only had two days using an airbrush a friend had showed me in Auburn a year prior, and the past two days learning from Raf. And, after listening to Raf and following his directions, we were both surprised at the result. It was a revelation to me that I could paint a rose at all. (Mine is on the left, Rafy's on the right.) With this discovery, we decided to move to working on the project I had brought with me, that of painting the torso and arms for my twin-mermaid-window project.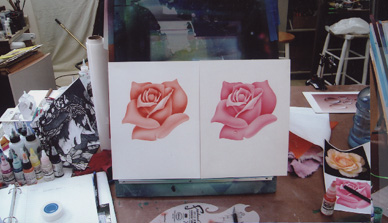 We started by taking the pieces of Armstrong Champagne water glass I had pre-cut and brought with me, and painting them with a coating of lead-free enamel, letting it dry, and then gently removing the unwanted dry paint. Raf created one set of the five pieces and I created the other. Each day for three days we spent a couple hours painting the pieces, then firing them that afternoon. The next day we repeated the procedure, and then again the third day, until the pieces were completed. At that time, it was time for me to head back to California with my 10 beautifully painted and fired torsos, ready to have their own window built around them, which I would do in the months to follow.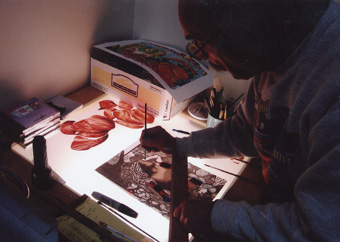 Again, I had NO IDEA I could really do this kind of work, but wanted to learn. So, it was amazing to me, that I could come out with work that looked so close to his, which is yet another statement about his ability to teach. Rafy's pieces are on the left, mine are on the right. After they were all complete, I packed them up and drove back home to California with my treasures, and mentally prepared to build the windows around them. Working with Raf, brought out a skill in me, that I didn't know (but hoped) I had. We became fast friends, and he still offers me pointers. I absolutely recommend his class, especially private training, to anyone! If I can do THIS in just less than a week, imagine what you can do!! -- Pat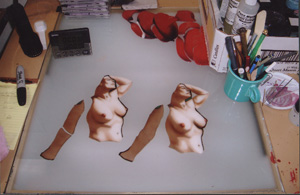 For the rest of this story, <click here>
For more about Raphael see his web site: http://www.rschnepf.com
To see what happens next, click <here>
(Last update: 11/07)