millenniumartglass.com
Millennium Art Glass Company
(A division of fruitcratelabels.com)
---
9) Pride of the West -- (Minnehaha) Indian Girl windows
Recently, after completing the windows on page 8, five of them sold to one buyer in Truckee! This was my first sale of stained glass windows since beginning back in 2005, (although, it was also the first time I had ever offered to sell any windows since then. The earlier works were either gifts for friends or pieces I still have hanging in my house). Elated with the prospect that my work is sellable, I decided to postpone making more inexpensive pieces to sell, for the moment, and work on a design I have wanted to do for several months. In this case, as in other recent designs, I decided to do two identical windows simultaneously.
The idea for this window design came from an old Washington apple label I have called "Pride of the West" apples. The image has an Indian maiden stiing by a pond, dipping her toe in the water. I thought this could be a very unusual artwork. However, recently, I stumbled across it quite by accident, in a book of "Indian Maiden" Designs, and it seems, it is a rather famous painting of "Minnehaha" (ca.1930), by James Arthur. I didn't know that when I started the project, I thought it was just a nice label design that few people even knew existed, since the label is so rare to begin with. But, I had cut ALL the glass just before going to Portland June 14th to visit Uroboros, Raphael Schnepf and to attend the G.A.S. conference. One evening Rafy and I went to Powell's Books and there it was, featured in an art book. I had no idea it was such a famous art-work. Nevertheless, the show must go on! I had already cut 260 pieces of glass, so I wasn't going to stop production.
In this photo, all the pieces are cut, although I didn't like the color-choice in the beads, and I would have to re-think that. I had only to cut and paint the feather in her hair, AFTER the window is all taped and ready to solder. The feather would be the final piece, which had to be done when the bead work was all taped and ready to solder, because it intrudes on the beadwork, and I just didn't know where that will be exactly until it was all ready to solder. Here is what the windows looked like just before taping, and just before leaving for Portland. I also had to paint and fire the features and shading on the Indian girl's face, fingers, torso and toes.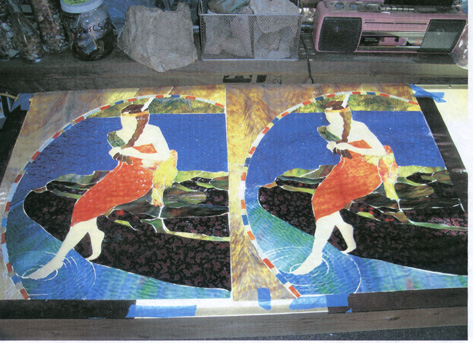 The actual shop time to create both of these was about 57 hours, or 29 hours each. Both windows have 130 pieces in them, and the bead-work around the semi-circle has 12 agates from the beach near Bandon, Oregon incorporated into them. The feather in her hair, her face, torso, arms and legs are finely painted with fingers, toes and shading. This image shows the detail of the ripples in the water, the agates and some of the painting. Note that the rock is mostly black glass (no transmitted light comes through) but it has a mossy red surface! ALL the glass is either ripple, ring-mottled or very textured. There are four agates in the bead strand in this photo. The light comes right through them when the sun is on the window.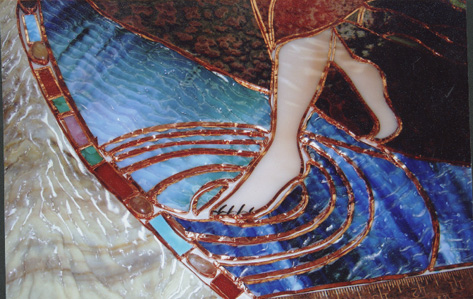 Here is how they both turned out when finished. (It was 104 degrees when this photo was taken and the smoke from all the 1,700 fires in California is all around me, we can't even see our neighbor's house across the ridge behind me! Now, I need to decide what my next project will be :)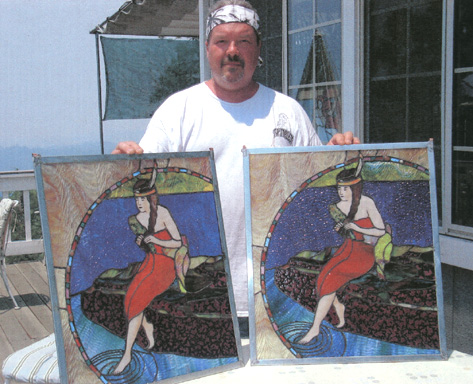 Thomas P. "Pat" Jacobsen --
P.O. Box 791, Weimar, CA, 95736-0791, U.S.A.
Phone 530.637.5923. (8:00 AM - 5:00 PM, weekdays (PST) !!)
EMAIL: pjacobsen@millenniumartglass.com
(Last update: 7.8.08)