millenniumartglass.com
Millennium Art Glass Company
(A division of fruitcratelabels.com)
---
Page 10) June 2008 Portland Trip: More Airbrush with Raphael
As I mentioned on the last page, in June I went to Portland to visit Uroboros Glass, Savoy Studios, Bullseye Glass; to further train with Raphael Schnepf in painting on glass, and to attend the week-long Glass Artist's Society conference (G.A.S.) What an amazing ten days, during which I received three more days of training in airbrush painting on art-board and on glass, met a lot of great glass artists, attended the industry convention, and got to shop in the archives of Uroboros and Bullseye..
One of the first projects we focused on was shading the feminine form (what a surprise!). We chose a well known artistic pin-up from the 1940s by Harry C. Bradley, as a figure study, and rotated working on our respective canvasses. The first image, is of the actual pin-up we chose to emulate. A few hours later, Raphael and I both had our own versions on Bristol Board. Placed side by side, they looked pretty similar. Mine is on the left, Raf's is on the right.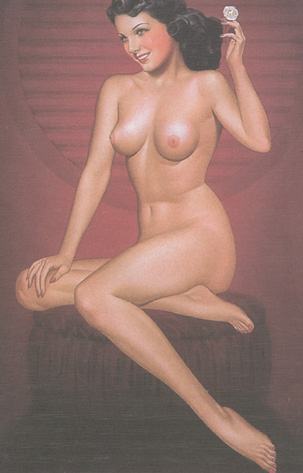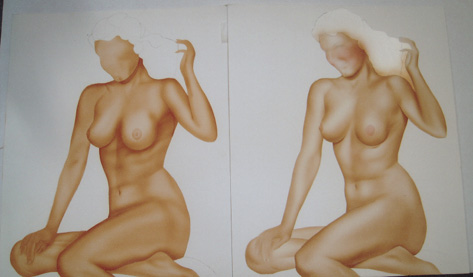 The next portion of the training was to repeat this on glass and fire it in the kiln, to see if I could get convincing shading on glass. Here is how that piece came out after three airbrush paint applications and three firings (over three days). This was also intended to test fire a new type of glass I plan to use instead of the Champagne glass I have been using. The new style of glass is more transparent, can be fused, and has a nicer, more skin-like texture for figural work. It also doesn't "strike" its color or texture after several firings at 1275 degrees.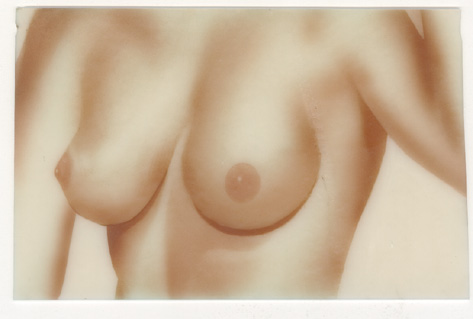 Once we saw how this project turned out, using only one color of paint, (monochrome), we decided to try another small project with multi-colors in application. I had a few labels with me, so I brought out one from the old Trader Vic's restaurant days of the 1940s, and did a more traditional trace-line and matte painting application. Although, for the matting, I used airbrush instead of brush and blender. Here is the original art: Below it is the painted glass piece.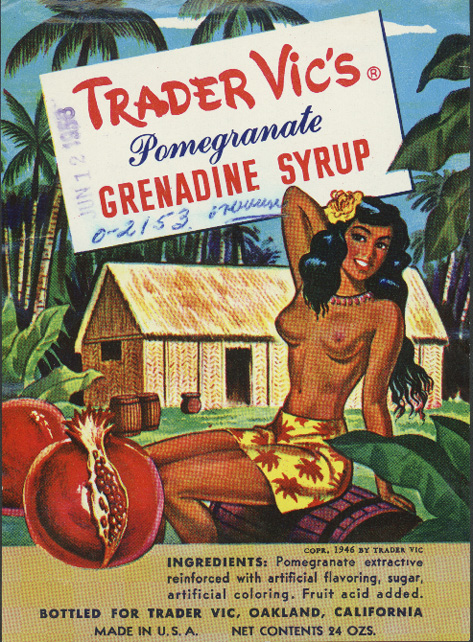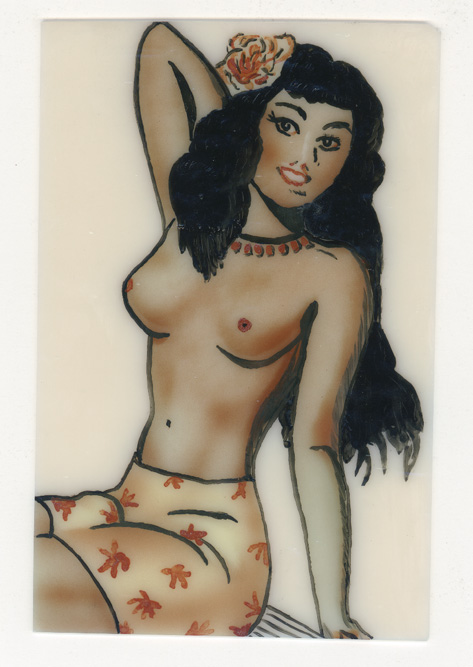 This piece was a bit more rushed, as time ran out during the week to finish it. There still needs to be applied, one last spray of shading on the face and right forearm, but the general result looked pretty good to us. This glass test also showed, that it worked well with opaque enamels and was not too grainy for airbrush painting. So, with another several days of training, and a couple more successful projects, I am on to my next project since the two Indian Girl windows. The next piece (or pieces, I should say,) are far more painting oriented, and may incorporate some drapery glass, too.
Thomas P. "Pat" Jacobsen --
P.O. Box 791, Weimar, CA, 95736-0791, U.S.A.
Phone 530.637.5923. (8:00 AM - 5:00 PM, weekdays (PST) !!)
EMAIL: pjacobsen@fruitcratelabels.com
(Last update:10/08)