millenniumartglass.com
Millennium Art Glass Company
(A division of fruitcratelabels.com)
---
19) Further Portraits
As part of my work in the Northwest with Peter and Raphael, I did a number of portraits as part of my training. However, I was not able to get to all of the ones I had hoped. So, since returning, I have been spending time when I can working on these other portraits that I promised as Christmas gifts. Although, it may be spring before they all find a home. This first one is of my friend Amy. The second, of course, is the trace line firing, and the third is of a intermediate phase with four mattes fired on. It probably needs 2-3 more mattes and some colors.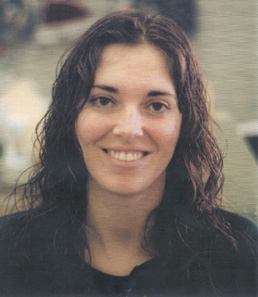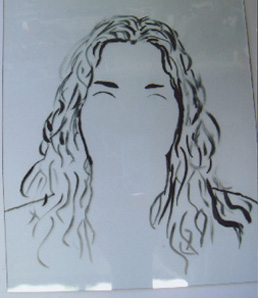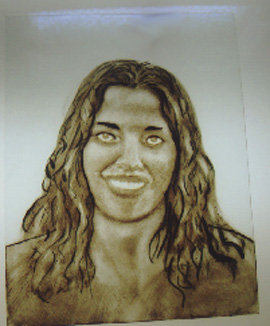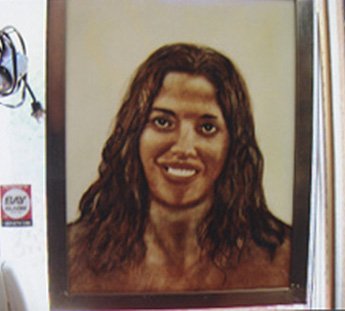 This next image is the traceline-glass with three layers of mattes fired in the kiln. There will be several more mattes and some color before it's done. But, it's turning out pretty nicely so far (Last update: 9/29/09)
UPDATE JUNE 2010: Finally back to work in the shop... The fourth image is of Amy's portrait after about 9 firings. All the work was done on float glass, and then stacked onto a very warm opague off-white glass with very slight green waves running through it. It took a long time to do, but I was happy with the result. She was happy with the gift.
Another gift portrait, was of my friend Lea Hume, a wonderful singer from Nevada City. The photo of her with a glsss of wine, inspired her nephew to do a simple line drawing of her. I took that line drawing and did it in color on glass for a birthday present. The drawing her nephew drew seemed simple at first, but to get the lines correctly in paint on glass was trickier than I first thought. This "simple" piece took four firings, two for trace-lines, one for the airbrushed red for her lips and hair, and another to strengthen the lips and hair, and to add the green eyes, all the latter done with airbrush and frisket. The clear glass is plated onto white opaque.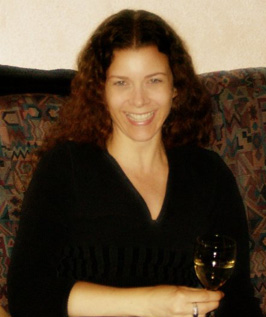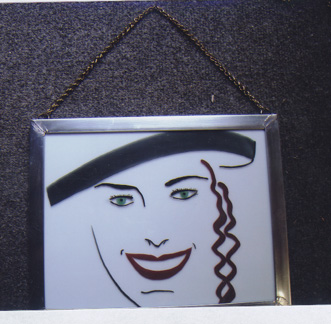 Another small piece I worked on was something i saw at Peter's when I trained there. It was a small portrait done by Dick Millard, master glass painter. I recall him telling me, Dick did it with eleven sets of lines and mattes, all with different vehicles and ONE firing!!! I wasn't able to do it in one firing.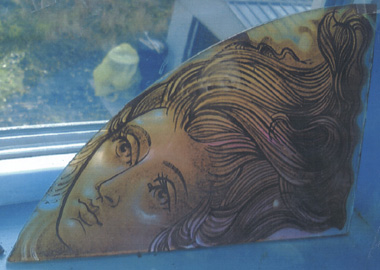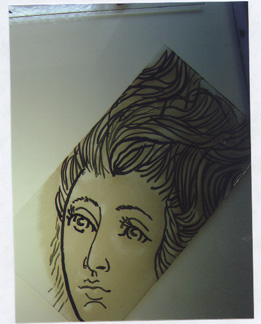 One other design I wanted to paint, was from a postcard given to me by my friend Lisa many years ago, of a lovely latino woman posing with a small table. This seemed an excellent figure study for painting on glass. The idea that it is a black and white photo, simplifies the job of layering mattes.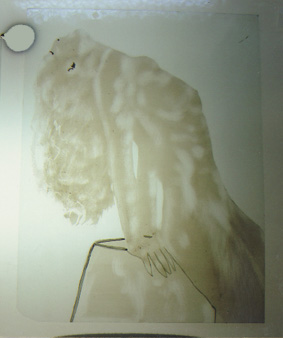 The last of these pieces for "re-introducing myself" to painting on glass after a year away, was a now-famous cover of GQ Magazine. An elderly neighbor and good friend of mine who subscribes to about 14 magazines, said "Hey Pat, here's that girl from Friends on TV. Why don't you do one of your windows of her?" So, I decided to do just a small figure study of the image. I think this is the first time I tried to paint blonde (blond... depending on preference...)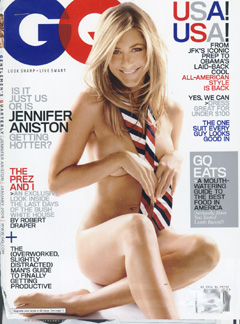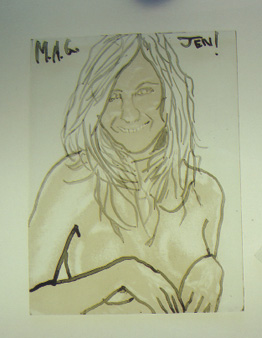 <Click here> for the next page
Thomas P. "Pat" Jacobsen --
P.O. Box 791, Weimar, CA, 95736-0791, U.S.A.
Phone 530.637.5923. (8:00 AM - 5:00 PM, weekdays (PST) !!)
EMAIL: pjacobsen@millenniumartglass.com
(Last update:)