millenniumartglass.com
Millennium Art Glass Company
(A division of fruitcratelabels.com)
---
18) Tropicana Verde, Bali Girl, Beach Girl & Tulip Study
Once the two cold-glass "Elegance" windows were completed, and the first two Vitri-fusaille® pieces were fired, I decided to do a series of VF pieces and rotate them through the kiln, along with a few other portraits I am working on. The first one is taken from an Edgar Leeteg Tahitian velour painting, which I call "tropicana verde." I didn't make a tracing, I just cut the glass right over this image, since there are only a few pieces in the work, the curtains, the torso and the hair.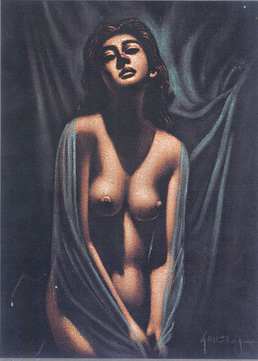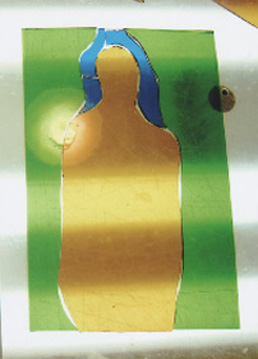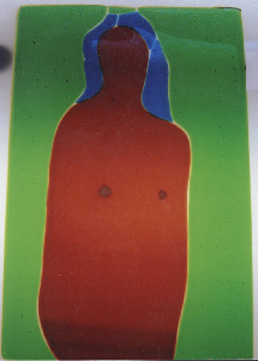 In this design, there are not many pieces of glass. The drama will be brought in by the matte layers.
The next design I call Bali Girl, and is taken from a 1950s record-album of Tropical South Seas music.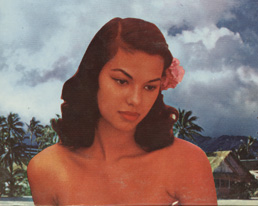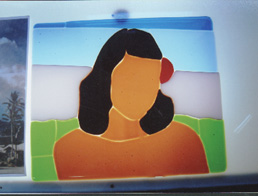 Another piece I tried was one I saw at Peter's studio, that I call Beach Girl, which I am executing as an exercise in understanding his way of mixing colors and moods. Blue hair, is not a normal practice in art, but in this medium, it is a study in itself.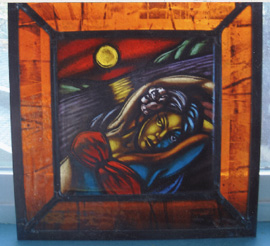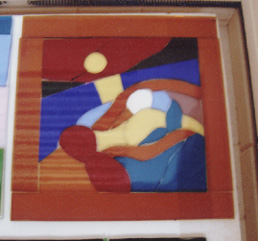 The last of the first six pieces I fired was a set of tulips which utilized opaque black glass between the flowers.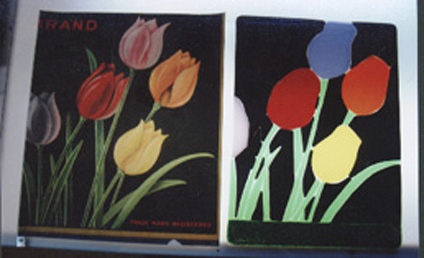 <Click here> for the next page
Thomas P. "Pat" Jacobsen --
P.O. Box 791, Weimar, CA, 95736-0791, U.S.A.
Phone 530.637.5923. (8:00 AM - 5:00 PM, weekdays (PST) !!)
EMAIL: pjacobsen@millenniumartglass.com
(Last update: 1/09)