millenniumartglass.com
Millennium Art Glass Company
(A division of fruitcratelabels.com)
---
17) Mandy and Love Garden vitri-fusaille® pieces.
As a result of my training with Peter, I am going to jump in with both feet, into two large VF experiments. One is an image of a Spanish model named "Mandy" who I saw on the Internet, and happen to really love this posing. You may recall I did an image of her on art-glass4.html and she was the basis for the Tropical Girl I did with Peter McGrain recently. I like the shading and the windy, flowing nature of the hair and the setting. The other is an old lithograph from the 1910's, of a woman enjoying roses from her garden, which was given to me by the hotel owner where I stayed while studying with Peter. It hung in my room, and they were about to remodel. He said, "here, you want this? I'll trade you some labels for it..."
I am starting these with the trace-line cartoons, and going from there. They are sized to 11x17, so BOTH fit easily onto a 24x24" kiln-shelf for initial fusing and later paint firings. Here is how they are starting life: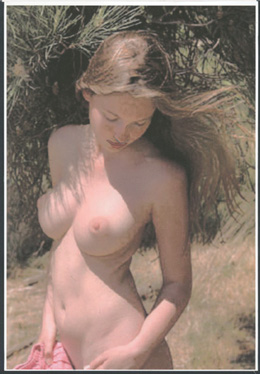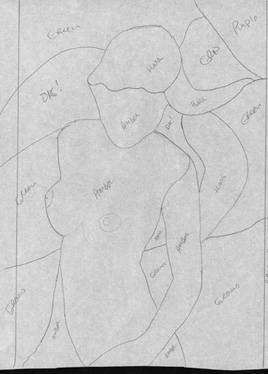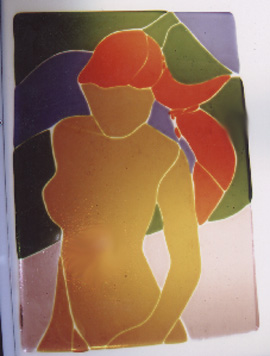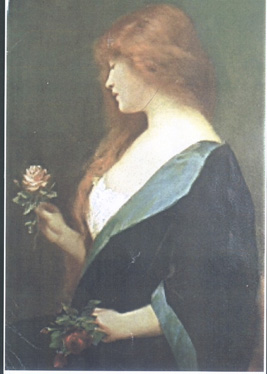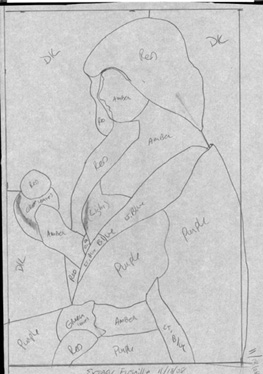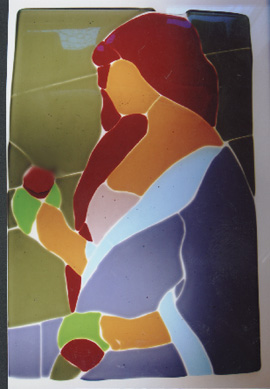 In this image, you can see the fuse-lines that will be hidden by painted trace-lines and then mattes will be used to add the depth and shading.
Each one has intricacies to consider. Mandy has 19 pieces of glass and Garden has 24 pieces. BOTH may have Level three pieces, meaning, if the FIRST layer of glass is the clear, machine-rolled Spectrum fusable sub-strate, and the SECOND layer is the colored Spectrum stained pieces, then the THIRD, is the small pieces that I will put on top, to fuse DOWN into the glass below it in layer two. Once these are fused and cooled. The tracing-line and painted mattes portion may begin. Now keep in mind, because the glass is now (after fusing) 1/4" thick, kiln firing times and annealing times will have to be adjusted. Also, since these are not small 8"x8" works, but 11x17, they will require greater care. will attempt to do several mattes at once, using different "vehicles" which allow for that kind of matting over mattes when each is yet unfired(!!), for each firing. These are advanced techniques, but solve a lot of time issues when done correctly. Wish me luck. This page will be "on-going" as I am also doing other projects.
FAQ: A NOTE ABOUT NUDES
Someone who recently visited my website mentioned... "there seems to be a theme running through your glass work... a lot of naked ladies." Well, I can't apologize for finding the feminine form attractive, I am a man after all. If you are interested in how I feel about this subject, click here. Thanks.

<Click here> for the next page
Thomas P. "Pat" Jacobsen --
P.O. Box 791, Weimar, CA, 95736-0791, U.S.A.
Phone 530.637.5923. (8:00 AM - 5:00 PM, weekdays (PST) !!)
EMAIL: pjacobsen@millenniumartglass.com
(Last update:11.28.08)