millenniumartglass.com
Millennium Art Glass Company
(A division of fruitcratelabels.com)
---
WANTED POSTER:
Over the past few years, I have spent a lot of time traveling the Pacific Coast, looking in all the different glass shops for unusual glass and miscellaneous things from the stained-glass world. I watch the newspaper in my area for garage sales that say things like" quiting my hobby, stained glass. (530) xxx-xxxx" Which I actually saw one day in Lincoln, CA, and I called and went over and bought 30 boxes of glass from the 1970s-1990s from a nice elderly lady
As I try to learn about glass, and understand all the different kinds, and the history behind the hobby, I get calls all the time from folks saying "hey, I have a bunch of old glass and tools we don't want anymore... are you interested?" I may be!! I would certainly love to hear about it.
So please feel free to contact me if you have any old glass or projects you decided not to finish, I may be interested in taking them off your hands. Even small scraps may be useful for repairs and such in the future. Thanks!! -- Pat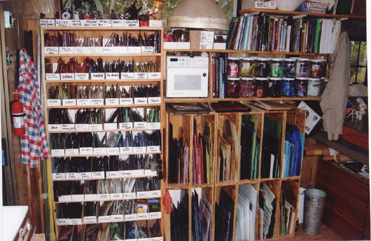 Thanks!!
Thomas P. "Pat" Jacobsen --
P.O. Box 791, Weimar, CA, 95736-0791, U.S.A.
Phone 530.637.5923. (8:00 AM - 5:00 PM, weekdays (PST) !!)
EMAIL: pjacobsen@millenniumartglass.com
(Last update:)