millenniumartglass.com
Millennium Art Glass Company
(A division of fruitcratelabels.com)
---

Boudoir Glass Presentations
By definition, a boudoir is a lady's private bedroom, sitting room or dressing room. The term derives from the French verb bouder, which means "to pout." Historically, the boudoir was part of the private suite of rooms of a lady, for bathing and dressing, adjacent to her bedchamber. It was also used as a drawing room, of for pastimes or entertaining intimate acquantainces.
Boudoir photography is the art of photographing a woman's body, face and mood in various states of dress or undress, in intimate, romantic, flirtacious, passionate, erotic or sensual forms, with such photographs composed in different ways, settings, lighting and subjective presentations. A good photographer makes his model feel safe, comfortable, feminine, glamerous and appreciated. A woman should be herself and present that side of her that expresses her beauty, sexual aura and femininity to share intimacy. The ideas being portrayed include love, affection, sharing and giving.
Then, in my approach, I translate beyond a photograph to a work of art in the meduims of painted and stained glass. And, as with other forms of the nude in art, the subject may be subtle, playful, intimate, pin-up, or exhibitionistic. The idea is to portray your attitude and frame of mind about your own beauty and/or ideas of seduction and glamour.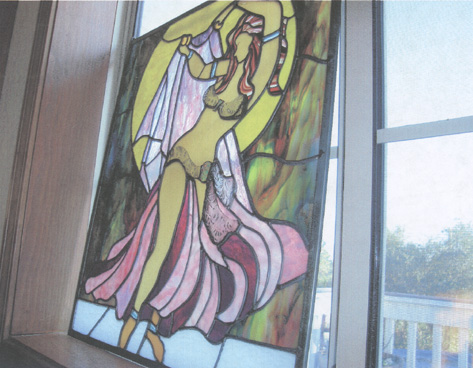 In December of 2009, if you type "Boudoir Photography" into Google, 320,000 results come up. The terms with which these sites define themselves include: boudoir photography, sexygirl photography, erotic, sensual, sensuous, romantic portraits, intimate images, fine-art nudes, roantic portraits, couple photography, glamour & beauty, fitness, birthday, bridal and annivesary photography... model-quality pictures of your wife or lover. Suffice it to say, this type of photography is a very big business, with thousands of photograpers and studios participating. However, when one tries to Google "Boudoir images in stained glass", it seems only I am doing that. There are no other results even closely related.
So, it seems, taking this idea one step further, having an elegant romantic image of yourself painted onto glass and fired in a kiln, will preserve your beauty and grace af a legacy that can never fade. Once fired into the glass, this image will last for hundreds of years and prove a priceless family heirloom, preserving your forever in the permenant medium of stained glass.
And although it is not necessary to be nude or overtly revealing in boudoir photographs, all photographs are more easily concealed than a stained glass window or glass painting. But the two just don't compare, and, stained glass offers ways of concealment which can be removed and replaced, like layers of glass (which I can explain later).
Why is painting on glass so important to the process? GOING A STEP FURTHER.
Simply because there is no other way to capture the exact lines of your face, eyes, and figural contours, or to capture as close to a photo-realistic images as possible of you. Lead lines in glass, cannot fully capture the essence of who YOU are in the glass. They can only separate the pieces of glass from one another. Painting on glass and the skill of the artist can create something unique in the world. Let me show you what I mean.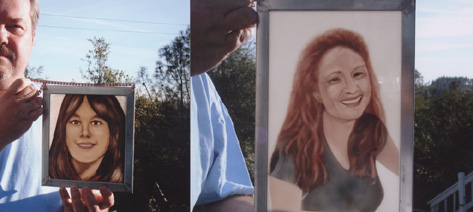 CUSTOMER'S MERMAID VS. AANRAKU DESIGN
In a typical boudoir design, the model decides upon a design that both, meets her comfort level, and preserves the youthful essence of her beauty. In this case, the design was a mermaid, but the client wanted a redhead mermaid. The first thing we did was to review some design ideas, then pick one she thought would present her in a way she wanted to be seen. Then, I photograph her outside my studio, until we got the appropriate natural lighting that coincided with the image. The next step was to scan the basic image into the computer. Then the two images were digitally rendered together in the computer, and adjustments made to the hair, waterfall and overall size and perspective of the finished design. Once this is completed, the next step is to pick a size for the finished work, make the cartoon and cutting patterns, cut all the glass and fit all the pieces. Then the painting step takes place.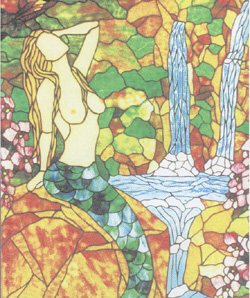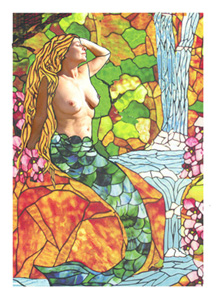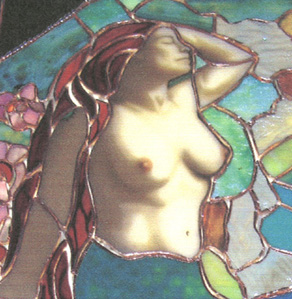 Once the finished art work is painted and fired into the glass, construction can take place.
The goal of the finished work is to accurately preserve the beauty and likeness of the model on the glass and in the stained glass window setting for the next several hundred years. All you need is an interest, your imagination, a venturesome sense of modesty and a place to hang the finished work. In this case, the finished work even included the small "yin-yang" tatoo on her right shoulder!
CHOOSING AN IMAGE
Whether you have me take the photographs or you provide your own, some sort of image will need to be selected. However, unlike regular photography, turning your image into a work on glass doesn't require perfect lighting and perfect hair and make-up, because the image is made up of colored glass and paint. I can also spend time changing, adjusting and "rendering" the digital image in the computer before the work of painting begins.
CHOOSING THE GLASS There are many glass manufacturers in America and Europe, and thousands of choices of colors and styles, glass types and prices. The choice of glass is not a problem, as all the basic colors are available in many price ranges. For all the information on what goes into pricing a project and glass costs, <click here.>
YOU ARE GIVING THE GIFT OF YOURSELF TO A LOVED ONE
PUBLICALLY DISPLAYED PIECES
By their nature, stained glass panels are hung in well lighted places, usually in the home. Even when hung in the bedroom, there is a likelihood that certain friends, family and other visitors may have ocassion to see the window in it's glory. Women who are uncomfortable with their beauty (nudes in particular) may not readily opt for a painting of themselves on glass (at least not one in which they are observed by lots of onlookers.) At the same time, MANY women have bouidoir photographs of themselves framed in their bedrooms and bathrooms and standing in frames on their husband's desk. These, too, may be seen by visitors. So, a bouidoir stained glass panel may not be the avenue for you. But if a photo can be comfortably displayed in the home, certainly a stained glass piece can, too.
On the other hand, I have been to homes where nude photo studies of a girlfriend, wife or other family members are proudly displayed in an office or other room of the house, including one friend who has an 7' tall by 3' wide full nude of his wife haning over the fireplace in the main room, and she is perfectly fine with having parties with dozens of guests (and she is a very modest, but beautiful woman.) It is a large, stunning, and tasteful painting, and it certainly glorifies her. Of course, I enjoy samples of my own works in my windows at home, and my wife and family and friends enjoy them as much as I do. Never has anyone visiting my home been even remotely offended by my work.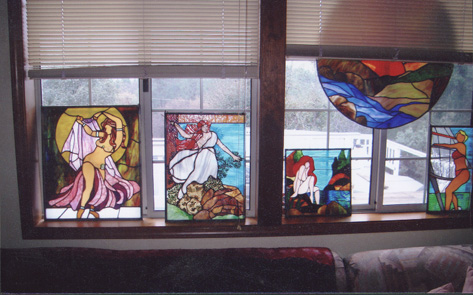 PARTIALY DISPLYED ELEMENTS
There are many ways to solve this dillema of bare skin, if one feels the need. One is the use of drapery glass and "plating" of the glass. In this instance the painting of you in whatever state of undress, can be placed behind a semi-transparent second piece of glass, thus obscuring the image, but not completely, as if you were naked, but dressed in a semi-sheer neglige, tantilizing, but not too revealing or overt. It is also possible to use actual fabric or removable pieces of glass, so that when you WANT to be seen, you can gently lift off the "covering" piece of glass to reveal your image, and then replace it for ocassions when that is not appropriate. There are other techniques we can discuss.
WHAT I AM AND WHAT I AM NOT
To be clear, I am NOT a bouidoir photographer, I am a glass artist and painter. There are tens of thousands of qualified photographers who do "romantically oriented" photography, and have full studios, many years of training, and skills and understanding of photography that I do not. At the same time, they all do the same things, they let a camera present you, with the result being two-dimemsoinal photographs on paper, that most of the time are only seen by one person. Remeber, too, that photographs fade, painting on glass does not!
Whereas, my work is three dimensional colored glass which is by nature, meant to be hung in a well lit window frame, perhaps in your bedroom, that may be seen by many people, using paints that are fired in a kiln and permenantly fused to the glass for centuries to come. The photos I take or that you provide, will be put into a computer program and digitally manipulated to turn you and your surroundings into a work of colorful stained glass. So, if you are seeking a "boudoir photographer" they are many, varied and easy to find in the phone book or online. If you want to be preserved in stained glass, you have come to the right place.
WHAT YOU SEE... DOES NOT HAVE TO BE WHAT YOU GET
In a photographer's studio, the lens tells the truth. Many women feel they have certain discomforts with their hair, hips, skin, thighs, excess weight, the effects of gravity, and so on. With today's computer technologies, most of this can be "adjusted" digitally to exclude or adjust for nature's foibles. This is especially true in the case of painting on glass, because once the images has been completed, the painting can also make subtle changes to the presentation, and you can come out looking "at your peak of beauty" with the sun shining through for all to admire. This will make you look great, feel good, and blush at the compliments.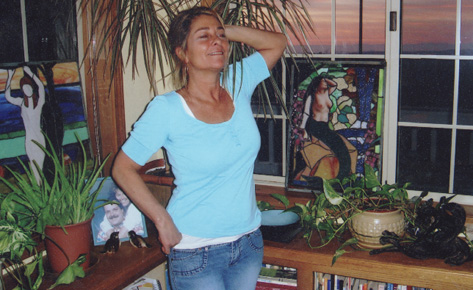 MODEL EXCHANGE PROGRAM
Ocassionally, while I have been developing my skills in glass painting, I have asked certain women to model for me, which they have agreed to. In exchange for ther permission to photograph them and use (discretely) these images for window designs and placing selected images on my website. I use images such as the one below, to display and describe my glass works on my website. In exchange, I give them the window in gratitude for their participation. This is something I do at my discretion, and not a regular practice. However, under certain circumstances, such an exchange may be possible, which is something we can discuss on a per-case basis.
<Click here> for the Model Agreement
CONTACT INFORMATION TO SCHEDULE A SESSION OR ESTIMATE.
Thomas P. "Pat" Jacobsen --
P.O. Box 791, Weimar, CA, 95736-0791, U.S.A.
Phone 530.637.5923. (8:00 AM - 5:00 PM, weekdays (PST) !!)
EMAIL: pjacobsen@millenniumartglass.com
(Last update:12/15/08)