millenniumartglass.com
Millennium Art Glass Company
(A division of fruitcratelabels.com)
---
21) RISHELL AT THE Bignen, BREITENBUSH HOTSPRINGS
While training with Peter McGrain in Washington State a in October of 2008, I stayed at a local establishment, where I met Rishell. We had in common that we are both musicians and singers, and one night she visited this website and saw my stained glass work. She told me:
"Pat, last week I was at Breitenbush Hotpsrings for a couple days. My photographer did an amazing photo shoot of me nude at the pools. I think there are quite a few pictures you will be able to use for a window. I will send you photos as soon as I get them printed up. I was just amazed at how beautiful they turned out. I hope you will be pleased as well. Your artwork is so lovely. I really appreciate your page explaining your love of nudes and the feminine form. Few people understand ME...why I enjoy nudity so much. I feel like you do, and that the human body is just beautiful. I'm glad I can help you to immortalize some female nude beauty!" -- Rishell
Then in January 2009, she sent some photos for me to chose one that would make for a flattering and enduring piece of art. She also authorized me to show the image and process of making the window online. However, at the time I met her, the American economy had just begun to fail, and for the next 18 months, I was unable to justify spending the necessary hours in my glass shop doing art, when I needed to focus on paying bills and not losing my home. It is now June 2010, and the world is a different place, the economy is improving, and I have been able in the past two weeks, to get several half-days in my glass shop, clearing up over due work, so that I can start on new projects. The following is how the work will progress in making Rishell's window. The first step was to take the original photo and put it into Photoshop so I could crop it, and make some adjustments to the rocks and leaves and water, to make it a suitable design for a stained glass window.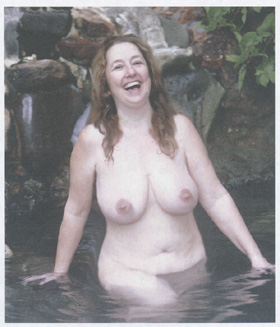 <Click here> for the next page
Thomas P. "Pat" Jacobsen --
P.O. Box 791, Weimar, CA, 95736-0791, U.S.A.
Phone 530.637.5923. (8:00 AM - 5:00 PM, weekdays (PST) !!)
EMAIL: pjacobsen@millenniumartglass.com
(Last update: 6/1/10)