millenniumartglass.com
Millennium Art Glass Company
(A division of fruitcratelabels.com)
---
14) STUDYING AGAIN WITH RAPHAEL SCHNEPF IN PORTLAND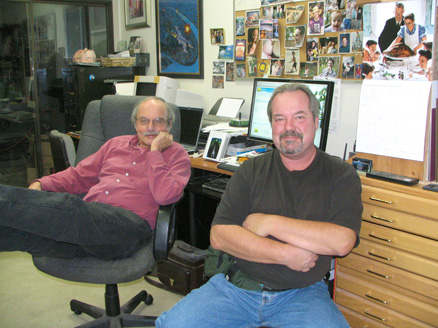 After leaving Peter's Friday morning,, I drove to Portland and settled into my hotel room. It is always great to hang out with Raf, and VERY FULFILLING to study with him, as well. (Don't forget he is also a master fuser.) The next day, Raf had an airbrush class for the weekend, which I had taken a year ago. So, he let me go right to work on the projects I had set up to do with him, namely, femanine portraiture. Prior to leaving for the Northwest, I put together some photographs or some local friends, and told them I was going to make them early Christmas gifts. On Saturday, I started with the photos of Kim Nielsen and Cindi Rasmussen.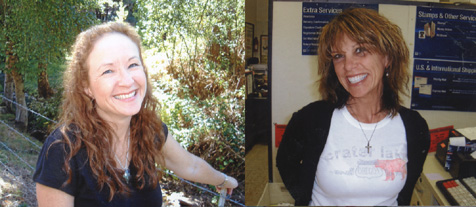 Just as with Peter's training, I used clear float glass for the canvas. The first step was to make a tracing of all the key-lines wth a fine pencil. These make it easier to work with the very soft, thin applications of airbrushed paint, by giving tight lines to draw from. First I traced Kim's photo, then placed the glass over it and put in a few, tiny trace lines and a few of the deeper shadows, and set that in the kiln. Then, I traced Cindi's photo and did the same. These were done by about early afternoon, so I took out another picture of another friend, Louise, and did the same with her glass. While I did these three, Raf was teaching his class of airbrush students and supervising my efforts off to the side. That evening, we fired all three of my pieces and some class's pieces and went to dinner. I actually planned to do three more portraits, but it turned out that these three were plenty to tackle in the few days I had to train. In Louis's photo, she wasn't wearing a beret, but Raf and I just decided it would be faster and more "European" if we added one. (Raf often wears one himself!).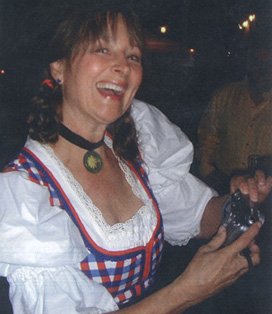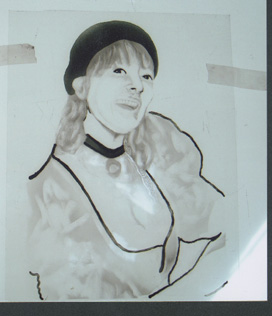 The next coupl of days were spent, adding layers of paint and details, putting in hair-lines and dimples, lips, noses, curves, shadows and highlights. It is during these early stages and firings that the images take shape and get their dimensionality. It is also here where you either "get" what they really look like or not. The eyes and teeth are critical to establishing the scale of all the other dimensions. If they aren't accurate, the finished piece doesn't really look like the real person. Each day after the weekend class was over, as I worked on my three pieces, Raf worked on his own version of Kim, which he used as a demonstration piece for me. Once the work was done with black tracings and shading, we moved into some brown paint and Persian red for skin tones. Here are all four pieces in mid-process on a light table. Raf's is the one on top.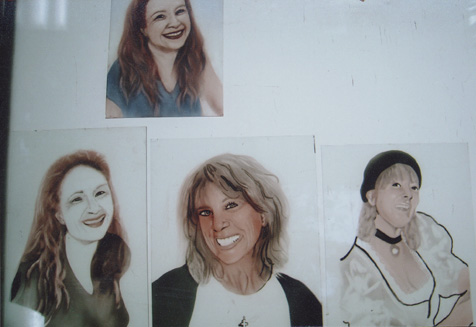 After this, it is simply a matter of adding more and more color layers and working each layer (and firings) until you get the result you want. After five days with Raf, and about 30 hours of work-time, here is how the three images ended up. These were not finished. I still had to take them home and do more on each one and fire them a few more times. But, the effort for a few days was well worth it as far as I was concerned. Kim's image still needs the blue blouse, and a couple more layers of red hair. Cindi's face and hair need a little more tone and depth and softening and some highlights in her hair. And, Louise's image needs a border and deeper color in her hair. But all and all, I was quite happy with everything.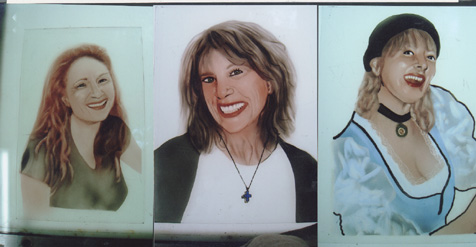 And, there is nothing more fun than doing what you love, with excellent teachers, beautiful models, and great people!! Although, I am going to have to sell more work to pay for all this training!!! :)

*Note: After I got back and over the course of a couple weeks, I added the other layers to these girl's images, then plated (stacked) them with a layer of white Spectrum glass and framed them to hang in a window. This is how the completed "gifts" looked before being given to the girls to enjoy. They were framed with 5/8 x 1/4" zinc, which I opened up to handle the 1/4" glass.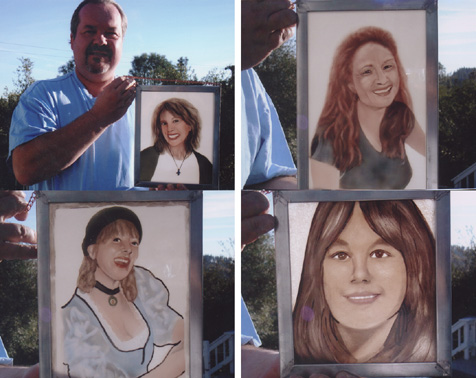 For the next page in my adventure, click <here>
Thomas P. "Pat" Jacobsen --
P.O. Box 791, Weimar, CA, 95736-0791, U.S.A.
Phone 530.637.5923. (8:00 AM - 5:00 PM, weekdays (PST) !!)
EMAIL: pjacobsen@millenniumartglass.com
(Last update:11.28.09)