millenniumartglass.com
Millennium Art Glass Company
(A division of fruitcratelabels.com)
---
AIR-BRUSHING ON GLASS
Painting on stained glass hails back to the 13th and 14th centuries when the first glass-stains (silver stains) were discovered/developed. Many books and websites reveal the history, of this art form, the chemistry of the paints and oxides and other meduims used to color and paint glass are revealed.....
But airbrushing on glass is a relatively new phenomenon. Airbrushes were first invented in the 1890s and were limited and clumbsy by today's standards. Even today, it amidst the vast array of styles, types, models, manufacturers and fittings (tips, needles, nozzles, etc), very few are well suited for painting on glass. A DUAL-ACTION airbrush is best for this kind of work.
Many artists have evolved their styles with fine figural work on glass using an airbrush, since the early 1970s. Here are a few websites of artists who use airbrush for their renderings on glass.

THE SERIOUS DANGERS OF LEAD AND DUST OVERSPRAY!!! *For more on the dangers of lead <click here>
LEAD-FREE PAINTS AND ENAMELS (still a danger!)
AIR SCRUBBERS AND VENTILATION SYSTEMS
A SPRAY-BOOTH IS A GOOD ANSWER
TRANSLATING BASIC AIRBRUSH SKILLS TO GLASS
A NOTE ABOUT BINDERS IN GLASS PAINT They will dry quickly in the compressed air stream and clog your airbrush. I tend to use almost no binders whatsoever when airbrushing paint onto glass.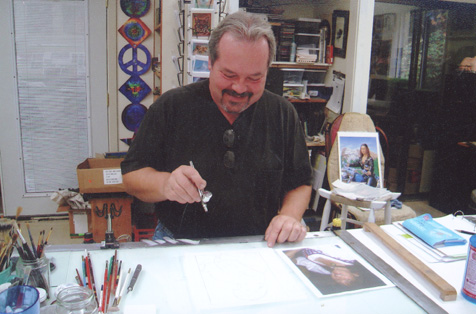 HERE IS A LIST OF BOOKS ABOUT AIRBRUSHING THAT I HAVE FOUND HELPFUL, all of which are in my library: AS with books about stained glass, early books are few and far-between. (listed alphabetically by era)
EARLY PUBLICATIONS: (1890'S-1939)
MID-CENTURY (1940-1979)
A manual of Airbrush Technique, j. carroll tobias, 1946, amer. Photographic publishing
AIR BRUSH ART by george w. kadel 1939, sign of the times publishing
Airbrush Illustration, Ben Jorj' Harris, 1947, manual arts press
Airbrush techniques for comm. Art, 1953, Reinhold, fluchere, grainger, musacchia spiral!
Airbrush techniques for comm. Art, 1953, Reinhold, fluchere, grainger, musacchia DIFF!!
Air powered the art of the airbrush, 1979, childers / random hs, isbn 0-394-50755-x
Complete airbrush tech's for com, tec, indstl aps" dember,sams,1974,isbn 0-672-21119-x
Hobby & craft guide to airbrushing, badger, 1978, caiati
How To Paint w/ Air, Frank J. Knaus, 1947, Paasche Airbrush Co.
The airbrush technique of photo retouch, king & slade, macmillan, 1954
The art of airbrushing, dario, chivers, 1977, grenadier books
The complete airbrush book, s. ralph maurelle, 1955, wm. Penn pub. ny
MODERN PUBLICATIONS: (1980-2009)
Airbrush works , c. michael mette, 1990, isbn# 3-89450-060-3
Airbrush: complete studio handbk, radu vero, 1983 ISBN# 0-8230-0166-0
Airbrushing 4 fine & commercial artists, robt. Paschal, 1892 / Badger airbrush co.
Airbrushing by peter west, walter foster pub 1986 ISBN# 0-929261-09-7
Airbrushing the human form, andy charlesworth, 1988, isbn# 0-89134-245-1
Airbrushing, by carl caiati, tab books, 1983 ISBN# 0-8306-0155-4
Creative airbrushing, step by, Graham duckett 1985 isbn# 0-02-011260-2
the advanced airbrush book, misstear/harmon, 1984, ISBN# 0-356-17585-5
The airbrush book (aztek airbrush) by roger hicks 1988 ISBN# 1-85404-000-6
The Airbrush Book, art, hist, tech. By seng gye 1980 ISBN# 0-442-21213-5
The Artist's airbrush manual, clement marten, 1980, isbn 0-7153-7997-6
The big bk of airbrush tech's & mats, parramon-ferron 1990 isbn#0-8230-0164-4
The encyc. of AB techniques, michael leek, 1-55521-510-6. 1989
The ultimate airbrush handbook, Pamela shanteau, 2002, ISBN 0-8230-5574-4
Thomas P. "Pat" Jacobsen --
P.O. Box 791, Weimar, CA, 95736-0791, U.S.A.
Phone 530.637.5923. (8:00 AM - 5:00 PM, weekdays (PST) !!)
EMAIL: pjacobsen@millenniumartglass.com
(Last update: 12/24/08)